Bath's Shamrock Ranch
99101 104th Ave : Fort Morgan, CO 80701
Adams County, Colorado
Expired Listing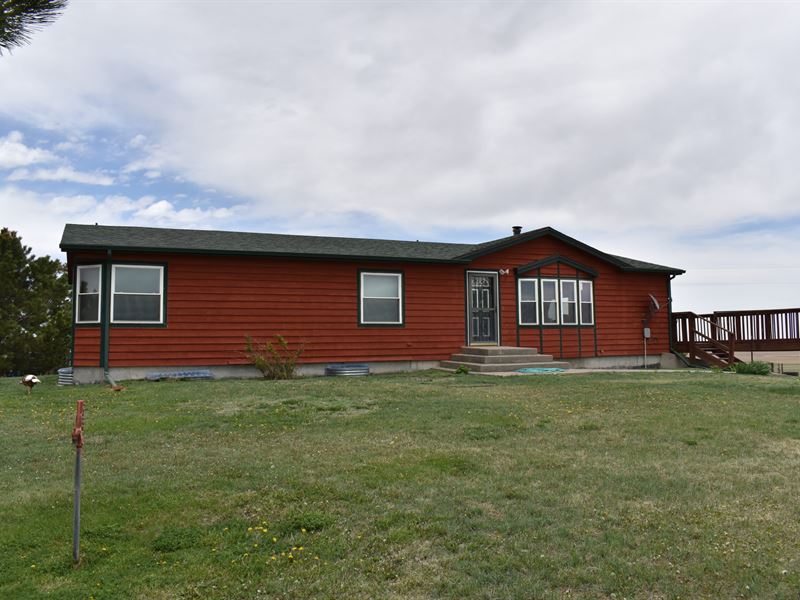 Ranch Description
Bath's Shamrock Ranch is 320 +/- acres of fenced native grass with a beautiful home, storage shed and horse barn located in eastern Adams County. The property is within 30 minutes of either I-76/Ft. Morgan or I-70/Byers and less than an hour from Denver yet feels secluded, making it a terrific place to get away and social distance. Situated on a hilltop, the home has amazing views of the Front Range and the Eastern Plains. LandBath's Shamrock Ranch consists of 320 +/- acres of rolling hills covered in native grass with a nice set of improvements. The property has good fence, a good well with submersible pump and a pipeline system that provides water to the home, horse barn and stock tanks. The property is accessed by a well maintained county road.

ImprovementsThe home on Bath's Shamrock Ranch is a 1680 sq ft 3 bedroom, 2 bath UBC modular all wood construction with a nice open floor plan and is set on a concrete, drive in unfinished basement. The home has been very well maintained, has a wonderful deck to enjoy the views of the eastern plains and is surrounded by a mature windbreak. The 200 sq ft storage shed is a great place to keep your tools and/or to use as a mancave. The 1200 sq ft horse barn has 3 stalls with access doors to the outdoor loafing area and to the native grass pasture, with a large roll door on the west side, it can also be utilized for equipment or hay storage.

RecreationBath's Shamrock Ranch offers endless recreation from hunting small game and varmints to monster plains mule deer and pronghorn. You also have the opportunity to go hiking, biking or having fun on your Atv/Utv all on your own property.

AgricultureBath's Shamrock Ranch is predominantly a native grass ranch and will be an excellent place to raise horses, cattle or sheep.

Region & ClimateBath's Shamrock Ranch is located in eastern Adams County in an area that normally receives 13 of annual rainfall, with low humidity and almost 300 days of sunshine per year.

HistoryThe Eastern Colorado plains have long been the hunting grounds for Native Americans and early settlers, once tens of thousands of bison roamed these grass covered rolling hills and lush stream bottoms. The area was also grazing territory for the historic cattle drives from Texas to Montana. Most recently this area has been utilized for ranching or dryland farming.