Off Grid Deer Camp
Cabool, MO 65689
Texas County, Missouri
Expired Listing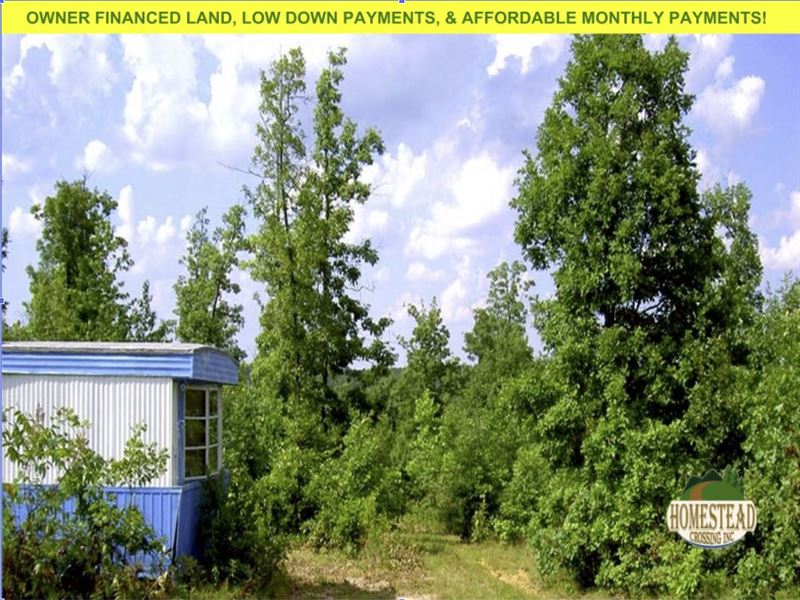 Ranch Description
Off the grid deer camp, mobile home just outside of Cabool, Missouri off of Clinton Road. This approximately 10 acres has a nice clearing with a preexisting older style mobile home ready to set up camp in. Completely off grid, but in location to easily have electric brought in and a well drilled. This mostly wooded parcel has abundant wildlife. The mobile home is a single wide, and much older. The interior is mostly paneling. There are two bedrooms and one bathroom (unfinished).

This parcel is completely off grid as it sits, although the home is wired for a generator or can be converted to solar electric and there is a water tank on the premises. There is electricity available off of the dirt road if that is desired.

The land is about 3 miles from Cabool, Missouri, a town of about 2500 with Dairy Queen, Motels, banks, cafes, pizza place, grocery stores and so on. It is about an hour from Springfield and another half hour to Branson. This parcel is beautiful with nice views in all directions. The surrounding land is woods and pasture land. The area is quite private with the neighbors being mostly retired ranchers.

This wooded parcel has a nice large cleared building site with lots of trees, nice views, is within 45 minutes of several lakes. There is also a season creek on the est side of it that could be damned for a small pond or two.

Nice 10 acre parcel about 3 miles out of Cabool that would make an excellent building site.

"This wooded 10 acre site is an excellent recreational parcel or building site. Electric runs to the east and west of the parcel and phone is along the road.

Property Terms & Pricing

Lease/Purchase: per Month with Down payment. Total purchase price: Financing Terms:

No credit checks, no prepayment penalties, and no balloon payments.