40 AC Dream Lot Saguache County, CO
Center, CO 81125
Saguache County, Colorado
Expired Listing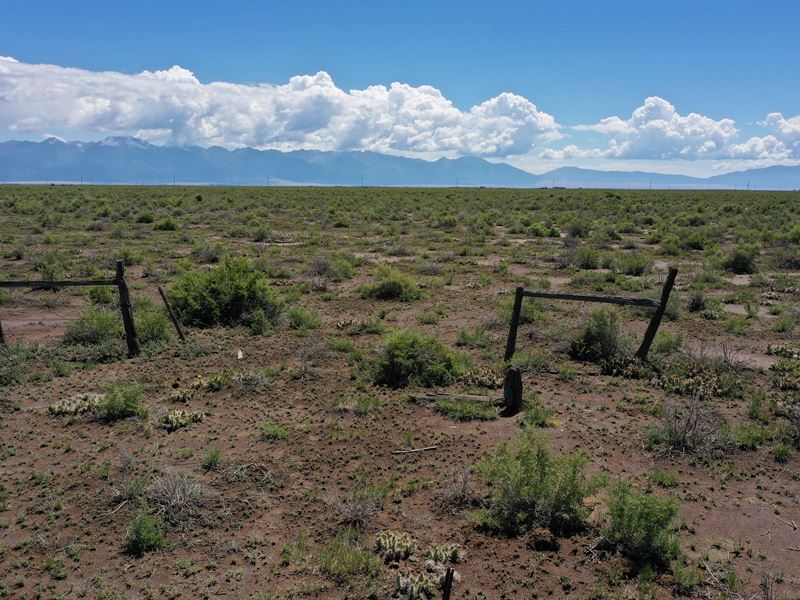 Ranch Description
Important Notes:

- All of the information we have about this Property is contained here.

- We ask that buyers do their own Due Diligence.

- You can visit any of our properties at any Time. GPS Co-ordinates and Driving Directions Given.

- Please call the Applicable County offices for any Specific Questions about the Property.

Property Description:

An Oasis in the Middle of the San Luis Valley, reputed to be in the Highest Alpine Valley on the Planet. Look West and East to Beautiful Colorado Mountain Views. An Affordable and Beautiful under contract 40 Acre Parcel For Your Off-Grid Living and RV and Recreational Trips. The Sangre de Cristo Mountains stun you right from the Northeast to the Southeast Horizon. Best off road riding in the entire U.S is here with hundreds of Off-Road Trail miles. So explore the Open Space by horseback, hiking, motorcycle, or 4X4. Major Ski Areas and relaxing Hot Springs north and South of the landlocked Property make this a NO Brainer Real Deal Lot. Clear Starry Night Colorado Countryside will Melt Away Your Daily Life Stresses. Close to Everything you want from the World but Far Enough Away to Also Forget about The World.

The Major town of Alamosa (33 miles South and Considered the Commercial Centre of the San Luis Valley), is easily accessible and has what you need - Walmart, Supermarkets, Banks, Hardware stores and Lumber yards.

Special Note:

1) Power Line is located just 250 feet from the NW corner of the Property Lot. Easy as Pie to get Power for your Future Cabin or Residence.

2) The Entire 160 Acres to the South of the Property is State Land so the Apparent Easement from County Road 59 to the Property goes through the State Land. See Picture given. This IS Major making this Lot NOT to be Landlocked as are many Properties in and around the Area and County.

Pricing Details:

40 AC Real Deal Lot Cash Price: NOT - Weekly Special.

Terms: down payment, for 48 months. for 42 months.

(We can work with your budget but mainly looking for mainly around these numbers).

Please Note that a One Time Non Refundable Documentation Fee of is on top for either Cash or Terms Sales. Monthly Terms Sales exclude a monthly Property Tax Payable plus a 0 monthly Transaction fee.

Property Details:

State: Colorado

City: West of Hwy 17, Between Hooper and Moffat, San Luis Valley

County: Saguache

Zip Code: 81125

Parcel Size (acres): 40 Acres

Approximate Dimensions: 1,314.41 ft x 1,298.67 ft x 1,309.67 ft x 1,288.05 ft

GPS center coordinates: 37.1745, -105.93527112914016

Gps corner coordinates:

37.31, -105.933071660905

37.272, -105.933030317974

37.265, -105.937622300946

37.174, -105.937647579914

Property access: Dirt Road

Zoning: No Zoning - General

Terrain: Level

Flood Zone: No

Tax amount: (2020)

Hoa: None

Use Category Permitted:

Mobile Homes?: YES but needs to be verified with the County

Tiny Homes/ Small Cabins Allowed?: YES but needs to be verified with the County

Utilities:

Water: Needs a water well, Baca Grande Water & Sanitation

Sewer: Septic needs to be installed, Baca Grande Water & Sanitation

Power: Solar Widely Allowed and Used, San Luis Valley Rural Electric

Disclaimer: Buyer is responsible for verifying all information with the County as to what can and can't be done with the land. Buyer will need to work with the County to obtain the proper permits if needed. Buyer will also need to confirm the availability of any utilities needed or serviced on the property. Seller makes no warranties or representations about the land, its condition, or what can be built on the lot parcel.