Mountain Lion Ranch
Indian Hwy : Talihina, OK 74571
Pushmataha County, Oklahoma
Expired Listing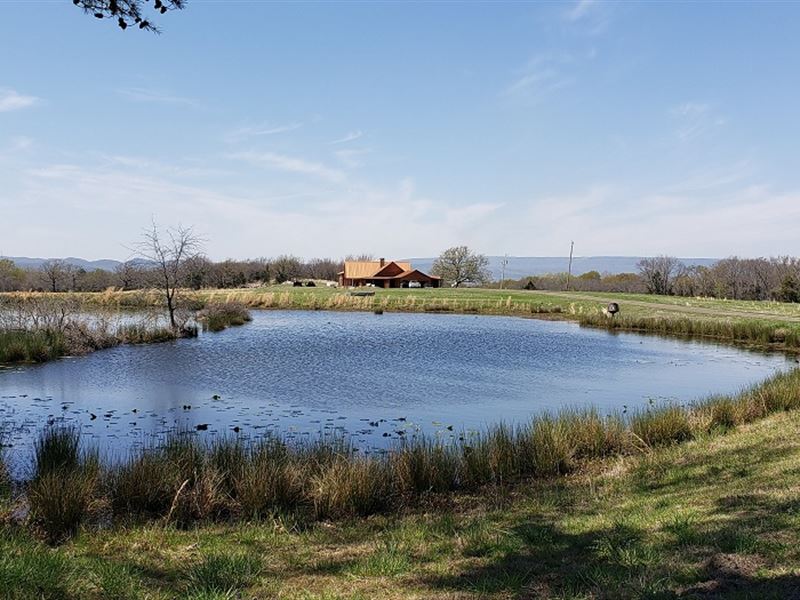 Ranch Description
Log Lodge On 195 Acres

Whether you are looking for a full time home or weekend getaway and hunting ranch, this estate is a deluxe premium property that is being offered for sale to a very lucky new owner.

It is only minutes from Talihina, OK, the Gateway to the Ouachita National Forest and surrounding majestic mountains, valleys and forests with thousands of miles of trails to be discovered and enjoyed. There are several fantastic fishing and recreational lakes less than an hour's drive too, such as Sardis Lake, Wister Lake, Clayton Lake and Broken Bow Lake.

Situated in the Kiamichi River Valley, there are fabulous views surrounding this enchanting place in every direction. You can sit on your porch and gaze at the famous Kiamichi Mountains and mountains to the south. To the west is the geological wonder of the Potato Hills. To the north you'll see historic Buffalo Mountain and the Winding Stair Mountains. To the east is the Ouachita National Forest and Winding Stair Mountains. Just unbelievably breathtakingly picturesque views anywhere you look.

Mountain Lion Ranch is located along a quiet little mountain highway but yet very private and secluded. No one even knows this diamond is there. Behind a locked security gate and surrounded by expansive lawns, meadows and forest, it is completely hidden from prying eyes.

The property is comprised of 195 Acres with approximately 60 Acres of beautiful open meadows surrounding the Log Lodge and appurtenances with the remaining 135 or so acres mostly wooded with a very nice forest, three very nice streams and brooks that mostly run water year round. There are three very nice ponds that all hold water very well for game, livestock and of course, your fishing pleasure. The large pond is stocked with fish and sports a floating automatic solar powered fish feeder so you can keep the fish nice and fat.

As I drove into this enchanted wonderland and rounded the curve in the driveway near the large pond to my right I observed a herd of approximately 20 whitetail deer bounding off into the woods. Most of them scampered into the deep woods and out of sight but I managed to get a picture of some of them that stopped to look back to see what I was up to. Then to my left there was a pair of Canada geese strolling beside the pond. A nesting pair I'm sure. I've included these pictures for your enjoyment.

This luxury log cabin was professionally built by Southland Log Home from Irmo, South Carolina. It is exquisitely and painstakingly finished to perfection and the double sided large "Acucraft" fireplace is a work of art. In fact, the whole place is very masterfully finished.

The cabin is approximately 2500 sf of heated and air conditioned living space with an attached two car 576 sf garage with breezeway between home and garage. The porch surrounds the entire cabin with an additional 3100 sf of outdoor living space featuring a concrete deck and beautiful rustic cedar posts.

There are three guest bedrooms on the west end of this wonderful home with a beautiful full bath in the hall to accomodate.

The master bedroom on the east end of the home has a master bath with a very spacious luxury shower. Off the master bath is a concrete rebar saferoom/gun vault that looks like it belongs in Fort Knox. It is vented and can be opened and locked from the inside.

The whole place is in absolutely new condition and is actually only 5 years old.

The kitchen area and all the cabinetry throughout the home, baths included, are appointed with beautiful granite countertops and were built and installed by Amish Craftsman. They sport soft close drawers too. This cabinetry is like fine furniture, very beautiful and upscale as is everything about this whole estate.

Heating and air conditioning is achieved by a state of the art Geothermal totally automatic system that is carefree and saves you big bucks on your electric bills.

The home itself is all electric and has a totally automatic backup generator that comes on automatically when the electric from the power company fails then shuts off automatically when the power comes back on. This Generac electric generator, once again state of the art, is sized to run the whole place with no problems. It runs off propane to make it even more maintenance free.

I mentioned Fort Knox earlier. The security system on the property at the home, grounds and outbuildings is also state of the art. (Am I wearing that term out? Sorry, but it's true.) It is set up with all pictures saved on a drive in the fireproof saferoom/vault. If I forget to alert the owner that I am showing this estate, he'll call me because he's been alerted and sees a video of me on his cell phone. Magic I guess. An ADT security alarm system is definitely at play here. Did I mention Fort Knox?.

The Log garage/workshop west of the Lodge is a huge 40' x 40' all log building in keeping with the home and has 14' tall eave height and tall doors for tall equipment. It is perfect for all your toys. This building has a room that is an overflow for guests, hunters and family when you sponsor that big family reunion or company retreat. Plumbing is in place and electric is ready for you to finish out the way you want it.

The all metal Monitor building is 50' x 40' with a 14' eave height and has a 14' wide x 12' tall overhead door to make it easier for you to get your equipment inside. This building has electric nearby and is all insulated and also plumbed for a bathroom.

You might have noticed the rustic little cabin by the pond in the pictures. It has electric for an air conditioner and heater. This was their original hunting cabin and is still used by family and friends. A very charming little cabin. You've got to see it.

As I'm sure you're beginning to understand, this place is first class in every way. It is not your typical rough out cabin. It is very refined for the most discriminating taste and finished with fine furniture, quality that is built to last for generations.

This was built to be the owners forever home. Even your wife will love it. It is one of a kind and very much worth the price tag. It will become a family legacy for a lucky new owner.

I could expound for volumes on this absolutely wonderful estate but the best thing for you is to schedule your personal viewing of the property. We'll load up the Polaris Ranger and take a tour on the extensive trail system to see all the game feeders, hunting blinds and food plots. We most likely will see some of the plentiful whitetail deer, turkey, squirrel and maybe even a fleeting glimpse of a black bear. No shortage of game here.

Call for your appointment, you'll be glad you did. I guarantee you one thing...you will not want to leave.