Scenic Deer Hunting Camp Grant
14756 Rail Hollow Road : Woodman, WI 53827
Grant County, Wisconsin
Expired Listing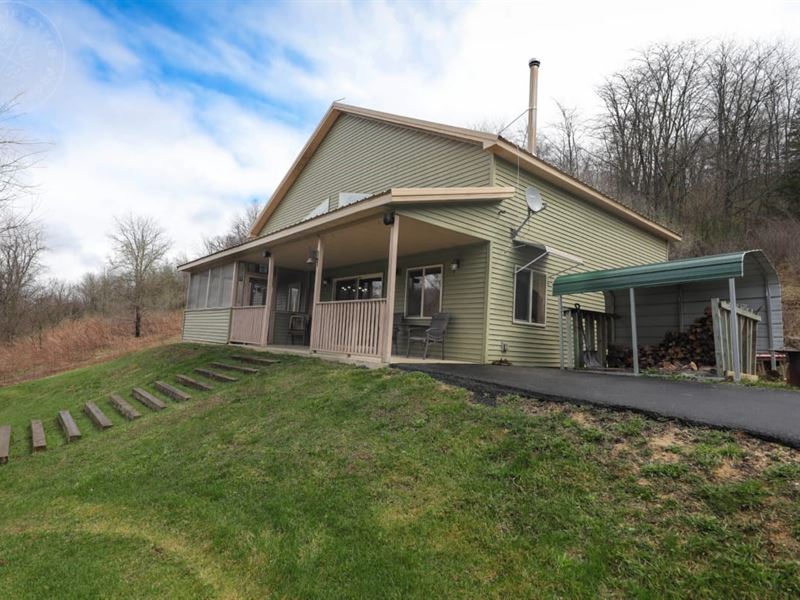 Ranch Description
You're looking at a an awe-inspiring 38ac whitetail hunting camp in the noble hills of Grant County, Wisconsin. This stupendous whitetail wonderland is truly the precipice of high-quality recreational real estate retreats. Whether you're looking for a permanent residence, a weekend getaway or simply a family-friendly hunting camp, this tract is an idyllic representation of a what a perfect place for year-round fun personifies.

You'll find this scenic retreat just minutes west of Boscobel in the quiet river town of Woodman. The rural appeal of this neighborhood is emphasized by its abundance of wildlife and arresting beauty. The area is like the front door of Mother Nature's House and open for all to enjoy. Enter the estate through a secured gated entrance that leads into a very private long driveway transitioning from gravel to blacktop. You'll cross a winding waterway just before you catch a glimpse of the home in the background. At this very moment, you'll feel more alive than you may have ever felt in years.

At the end of the blacktop, you'll find a prominent 2-bedroom, 1-bath gateway to paradise. A charming +/- 1,444 sq ft cabin proudly overlooks the valley below spotlighted by remarkable views that make for utter tranquility. The home's footprint is 30 40'+/- and sits atop a concrete slab with 4' frost walls. Custom built in 2011, this dreamer was crafted with tender care. The exterior walls are composed of heavy-duty 2 6. There's even an 8 40' porch area with 8 16' screened.

A conventional septic, well and electric rounds out the basic necessities for year-round living. Hardwood maple flooring decorates the cabin giving it an elegant rustic touch so perfectly fitting for the wonderous landscape. Both bedrooms and bathroom are located on the main level, whereas a loft makes for overflow. A built-in wall air conditioner cools the cabin during the summer months, while a wood burning stove generates more than enough heat during the frigid winter. A small utility room is located in a closet of the bathroom with a hot water heater. Do note that although there's no high-speed fiber optic for internet on-site, both telephone and dish Wifi provides ample internet service for extended stays. The current owner has TDS internet as well as Direct Tv.

The land is like nothing you've ever seen before. Quite honestly, it's one of the largest feeling 38ac tracts I've stepped foot on. There's a total of 7 distinct deer bedding knobs that engulf the bluff laden landscape. Most notably, a waterfall cascades along the SW boundary. Multiple springs provide a fresh water source for wildlife along with a well laid-out trail system for hiking or riding. Several astounding rock outcroppings crown the ridge faces with pure grace. This pocket is riddled with big buck activity. Deer trails and not to mention numerous apple trees. You'll even find 2 box blinds located in gun hunting hot spots.

Recreational properties of this caliber rarely hit the market. Especially those that are already suited with a turnkey operation and have a track record of such remarkable hunting success. Pack your bags, stoke a fire and enjoy an extended stay at your very own masterpiece. Given the limited inventory and hot market, you'll want to act quick. This property is in a league of its own and cannot be compared to anything else you've seen online.Due note, taxes are annually and the property is not in any programs.

You won't find many tracts like this again. We sell real estate in SW Wisconsin full-time and it's extremely rare to run across something as special as this. Buyers must provide a pre-qualification letter before viewing property and must be accompanied by Licensed Real Estate Agent. For more info, please contact Southwest Wisconsin Land Specialist at // or Joe Nawrot at // Nawrot and are The Land Experts of Wisconsin.