514 Ac Nature Lovers Paradise
San Gerardo De Dota Calle : San Gerardo De Dota, Costa Rica
Expired Listing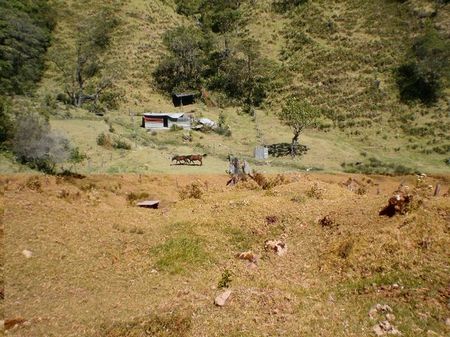 Ranch Description
A mountain of your own. In popular tourist area with an excellent view of Cerro de la Muerte, one of the highest mountain peaks in Costa Rica.

514 ac (208 hectares) with 10 acres in improved pasture, balance in primary and secondary forest, huge trees. Rushing clear water mountain stream runs the full length of one border. Cold water springs, spring branch runs thru pasture. Rough cabin with electric and running water, storage bldg, shelter for horses, out building. Pasture has horses on it now. phone available. Owner reports that soil is very fertile and excellent for agriculture. He also reports that this property is in an ecological protected area.

The elevation at the public road is 8024 ft. Cool mountain type weather year 'round.

Quetzals, wild turkeys and a large variety of colorful birds and animals.

Tropical resort just down the road within veiw of this farm. The resort has several neat rental cabins, a resturant, several trout ponds, waterfalls, and terrific tropical gardens. What a peaceful place. There are 3 or 4 other small resorts within a couple of miles.

This farm is being sold with a "Right of Possession" only, NO Deed. Property has had only 2 different owners since 1950. Current owner is working to get the property deed in his name. When he is successful, the price will go up.

Near 2 national parks.

This property has almost 1 mile of good public road frontage. 3 1/2 miles off the Pan American Highway between Cartago and San Isidro de General. Nearest town is Santa Maria.