Nice Corner Lot, Sun Valley, $229/M
Sun Valley Road : Sun Valley, AZ 86029
Navajo County, Arizona
Expired Listing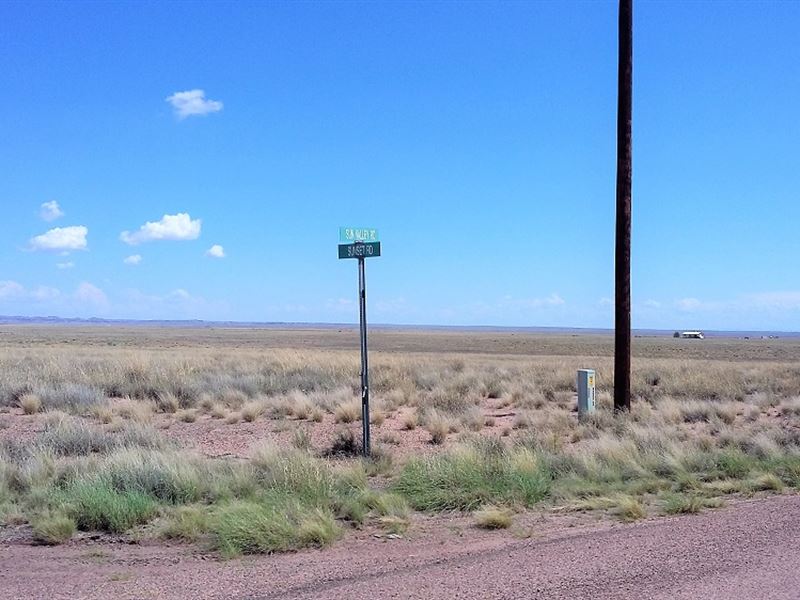 Ranch Description
Nice raw acreage in the small town of Sun Valley (population 300), 7 miles east of Holbrook.

Great location near The Painted Desert and Petrified Forest, which are some of the most beautiful natural attractions in the state of Arizona - both are only a short drive from this location.

Navajo County Apn 105-16-023 - Ariz Rancho 22 Lots 40, 41, 42, 43, 44 and 45

Size: 10.6 Acres. Lot dimensions are 696' X 664' feet.

Terrain: Level.

This parcel has road frontage on 3 sides:

Sun Valley Road along the west side.

Stampede Road along the north side.

Stardust Road along the south side.

Access does not get much easier than this... this is on Sun Valley Road, a wide maintained County Road.

Please be sure to open all the maps attached in files at bottom of listing under Land Maps & Attachments.

Coordinates to NW corner: 34.958376, -110.057983

Zoning: Residential. NO Restrictions whatsoever.

Sewer: By installing a septic system.

Utilities: Off Grid. Power via Solar. Water would be via well or hauling.

Pictures: Taken at property and immediate area on 2 previous visits.

Time Limit to Build: None

Association Dues: None

Title: Free and Clear Title and will be conveyed by a Warranty Deed.

Taxes: per year. Taxes are paid current.

Terms of Sale:

Purchase price has been reduced to only get started: A Down Payment of + Closing Costs of is to be paid via Paypal.

I will email the buyer a Paypal invoice upon being notified you wish to purchase this land.

Remaining balance of financed via Contract for Deed with 3 options to choose from:

A) 12 Months with 0% interest, monthly payment of 24 Months with 4% interest, monthly payment of 36 Months with 5% interest, monthly payment of per month for prepayment of property tax shall be added to monthly payment.

A contract for deed will be sent to buyer upon receipt of Down Payment and Doc Fee.

A discount of 0 and NO interest charged, for paying loan in full within 6 months.

Note:

I encourage my buyers to use the land while on contract, enjoy it, make small improvements, etc.

To be perfectly clear, in no uncertain terms... I am selling "vacant Land" - not entering into a "Landlord-Tenant" relationship...

That being said, if your intention is to start living on this land right away - then you must also pay for it in full right away - 100% use requires 100% ownership.

I need to mention this because I've had a few folks who presumptuously assumed since they paid a few hundred dollars to get into a land contract, they can now "move right in" and do as they please...