78 Acre Northern AZ Ranch $456/Mo
Saint Johns, AZ 85936
Apache County, Arizona
Expired Listing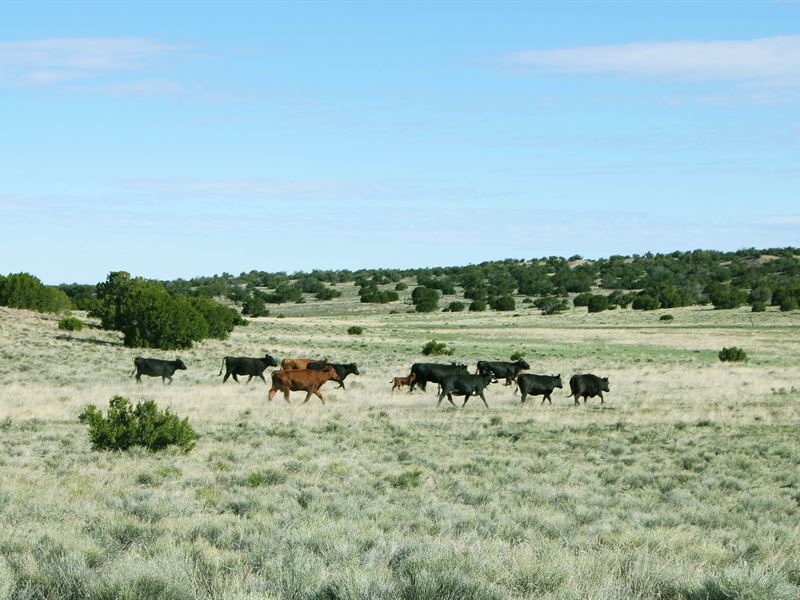 Ranch Description
77.89 acres of prime northern Arizona ranchland situated at the ideal 5,900' elevation where are land owners enjoy the very best weather in the state. Located approximately 12 miles northeast of St. Johns in Apache County, the land enjoys scenic long range views of the surrounding wilderness mountains and secluded valleys. Outdoor work is here rarely curtailed due to the weather. The winters here are mild, typically producing less than 20" of snow most of which falls at a rate of two to three inches per storm and melts into the soil within a day or two. The average high temperature in the coldest month of January is 50 degrees. Summer temperatures are mild with daytime highs averaging in the upper 80s. Summer temperatures see additional cooling with the arrival of the seasonal monsoon rains. Typically arriving in mid-July, these refreshing afternoon rains spark a profusion of colorful wildflowers and turn the ranch's lush native range grasses vivid green. This is a very secluded property set amid scenic valleys and wooded hillsides. Thick stands of evergreen junipers blanket the southern half of the land blending well with approximately 35 acres acres of grassy meadowland that spread across the balance of the property. A series of elevated ridges with 360-Degree views situated throughout the wooded areas of the property offer outstanding locations for a cabin or RV pad. Access is via maintained ranch roads. The pasture portion of the acreage is level and usable throughout and can be easily fenced to contain livestock. The land surface is blanketed with a fine tillable sandy loam soil, ideal for the raising of vegetables and fruit trees. Apples, cherries plumbs, pears and a host of garden vegetables thrive in this soil. A range of nutrient rich native grasses and colorful wildflowers grow in the loam soil as well.

The land has access to a groundwater supply from its positioning over the massive Coconino Sandstone Aquifer and private wells producing 35 gallons per minute or less are allowed without permitting requirements. Also, a free access convenience well is available to the property owner for water hauling back to their land. Many area ranch owners also transport their water from St. Johns, where two distribution stations provide fresh domestic quality water for only a penny a gallon. for each 1,000 gallons).

This is a very secluded location and best suited for people seeking large acreage ownership well away from neighboring owners and who place a premium on the freedom to use and work their land in a quiet and peaceful wilderness setting free of urban noise and pollution. All corner markers have been set by registered surveyors and the recorded map with all property dimensions is provided to the new owners. The maintained road access to the property is built entirely along title insured easements recorded with the county recorder's office. The residential, recreational and agricultural zoning allows livestock, camping and RV use at the owner's discretion.

No qualifying seller provided financing is available with no closing costs. total, down payment, per month on a 15 year loan with no early payoff penalty. Additional price and interest discounts available with increased down payment. Monthly payments are account serviced by First American Title, one of the nation's largest title companies. is Arizona's largest provider of private land and has a wide selection of terrains and wilderness landscapes to select from. Call us at to order a free photo brochure including additional similar properties, topographical map, monthly weather chart, and info on nearby lakes and historic town.